Concerts In Your Car (9 pm) SUBLIME WITH ROME
August 7 @ 9:00 pm

-

10:30 pm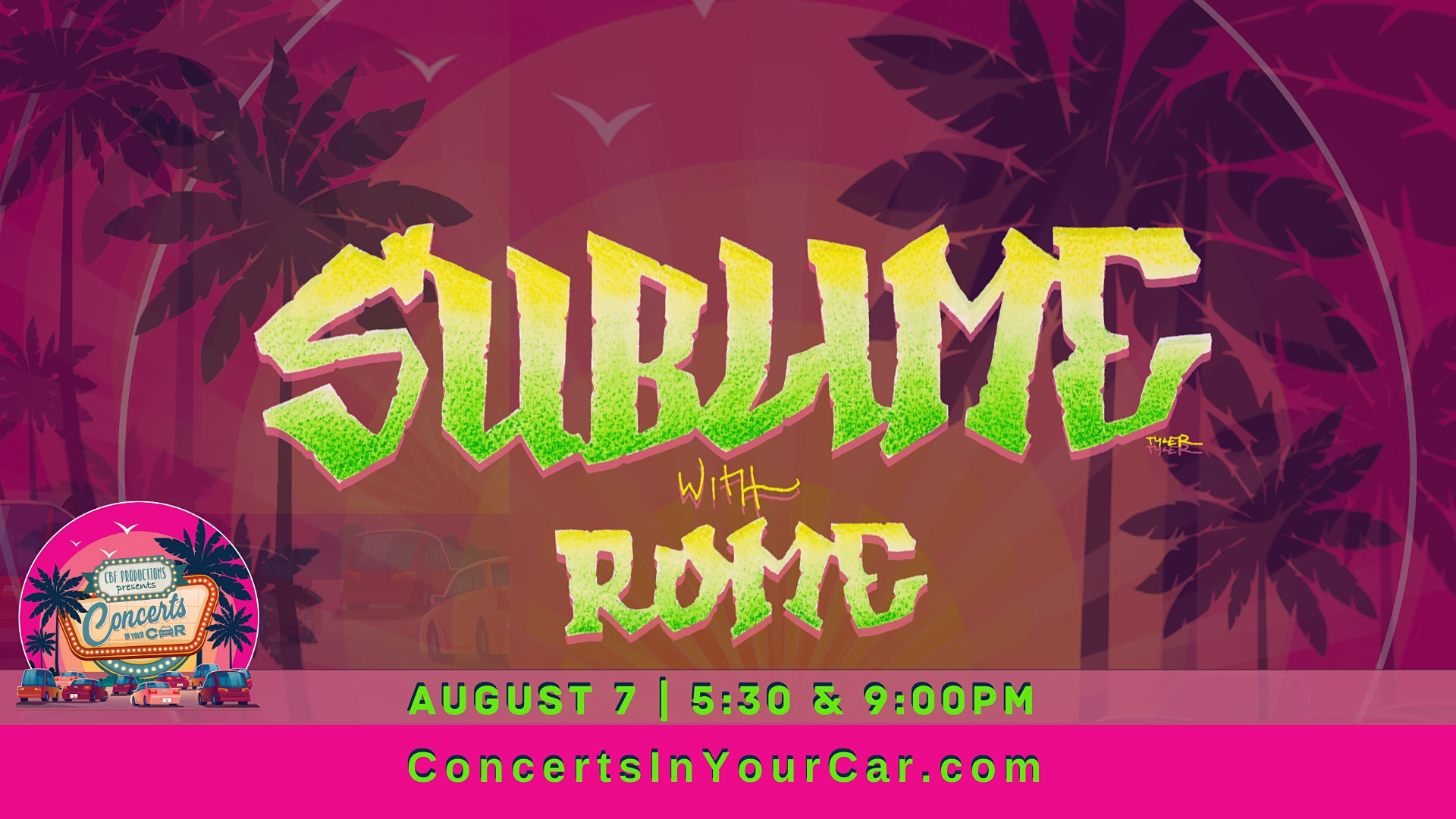 CONCERTS IN YOUR CAR…SUBLIME WITH ROME
Think DRIVE-IN meets LIVE ENTERTAINMENT
Visit: https://www.concertsinyourcar.com
Each ticket is valid for ONE car. The number of passengers must not exceed the number of safety belts /seats in your vehicle.
CBF Productions is proud to present California's FIRST social distancing concert series, "Concerts In Your Car" at the Ventura County Fairgrounds!
This drive-in concert series will create a new entertainment experience – all from the comfort and safety of your own vehicle.
CONCERTS IN YOUR CAR – SUBLIME WITH ROME
The wait is over! Sublime With Rome returns long at last with new music in 2018 to complement their first two album releases, Sirens, the 2015 effervescent follow up to the band's 2011 debut release Yours Truly. "Wicked Heart" is the first single off their yet untitled upcoming album to come out around Spring 2019.
"We had more time, we know each other better now, and we're even better musicians," said Rome Ramirez, who was just 20-years-old when he embarked on this journey.
With Sublime bassist and co-founder Eric Wilson anchoring the group, Sublime With Rome are armed with a new album that makes a real statement… their statement. Produced by Rob Cavallo, who has worked with Green Day, My Chemical Romance, Linkiin Park and many more, the latest release is an expression of three musicians who truly get each other and who communicate seamlessly through their instruments.
The luxury of time had a huge impact on their approach to this all-important release, especially since the band went into the studio without any demos or songs ready to go! That might sound terrifying to some musicians, but Sublime With Rome were invigorated by the situation.
"We didn't have any songs in our pockets," the frontman said, confessing that while he liked the spontaneity, it also lit a fire under their collective ass. "We showed up to this big studio and we had nothing, so we had to make it grassroots. It felt refreshing to make things on the fly. It really came together with all of us in the room and we loved the result."
He furthered, "Everything was recorded live and together. It's a little tighter and edgier than our last two releases. We have a lot of influence from Eric and it definitely shows."
Wilson concurred, saying, "It was great working with Rob, our chemistry was excellent. We had a great time recording the album in a totally organic way. There was no stress, even though we came up with stuff on the fly." The album was recorded at famed Sonic Ranch nearby El Paso, Texas and in Los Angeles.
"It is a whole different feeling now," Ramirez admitted. "Carlos is such a great guy and he is just as lighthearted, which is great on the road, since touring can be so serious and so tough. It has been more fun, really. It is a lot more relaxed, and that helps with everything. It's like that everywhere. Studio. Stage. Bus. Wherever we are. We've moved forward, musically and on stage. He brings a great element.
And while Ramirez pays the utmost respect to the original Sublime entity, since, as he admitted in the past, they were the first band that made him want to make, as opposed to just listen to, music, he knows Sublime With Rome are worthy of fan's undivided attention. "This summer, I want fans to say, 'I went to see Sublime With Rome and the new music is sick as fuck.' We can do that by continuing to make better and better records," he said.
Ramirez even stated that he isn't so much interested in the endgame or results as much as he is interested in writing music that is honest. And it's Wilson who summed up how their new music is such an important record for the band. "I'm able play music for the love of music, just like I did back then. I am so fortunate to still be able to do it," he said.
Space is very limited.
The show will include a visual light show, multi-media entertainment and a video screens. Sound will be distributed via FM radio. The combination of an extra high 360 degree stage and screens will ensure a good viewing experience for everyone.
All Tickets Come With Sound Broadcasted To Our Radio Station And Our App.
All the event information can be found on our website at ConcertsInYourCar.com, please be sure to review FAQs before purchasing and arriving, but here is some info to get you started:
Each ticket is valid for ONE car. The number of passengers must not exceed the number of safety belts /seats in your vehicle.
All vehicles are subject to search.
All tickets are first come, first parked, in the row you purchased and will not be assigned prior to arrival (first come, first parked basis). Parking attendants will direct each driver to a parking space in their designated row upon arrival. To ensure you don't miss a thing, we added large video screens on each side of the stage.
All CDC and State of California guidelines will be followed, and we are working closely with Ventura County and the City of Ventura to ensure this event meets or exceeds all recommended standards.
To be considerate of all attendees we do not allow smoking at this event. Thank you for your understanding.
We ask that all attendees stay inside/by their vehicle. You are allowed to sit in folding chairs by your vehicle but you MUST wear a face mask and maintain social distancing.
You may view the show from the bed of your truck. You may not be sitting so high as to obstruct the view of others. You MUST wear a face mask.
Hatches may be open but must not exceed roof height. If hatch is spring loaded please tie it down so it doesn't obstruct the view of others. Please use common courtesy so everyone can enjoy the show.
Portable restrooms will be available onsite. We ask that only two people per car at a time leave the vehicle to use. Please wear a mask and follow social distancing guidelines
In the event it is necessary for a fan to leave their vehicle, safe social distancing will be strictly enforced. Failure to follow safe social distancing, or requests of staff members for participants to follow, will cause the participant to be subject to ejection.
Event staff will be wearing personal protective equipment as required by CDC guidelines.
Tickets are ONLY available online and in advance.
Your ticket is only valid for the DAY & TIME on the top of the ticket. Nontransferable to another show.
No RVs or buses allowed. All lifted trucks and high profile vehicles MUST park in the RED, GREY OR TEAL SECTIONS.
Each ticket is valid for ONE car. The number of passengers must not exceed the number of safety belts /seats in your vehicle.
Rain or Shine event. All sales are final and there will be no refunds.
No in and out privileges.
Outside food and drinks are permitted.
Please review ALL facts on our website prior to arrival.
Gates open 90 minutes before show starts, Each show is approximately 75 minutes. All vehicles are subject to search.
All sales are final and there will be no refunds. This is a rain or shine event and there are no refunds. In the unlikely chance of a Thunder, Wind or Lightning Storm and the event gets canceled due to safety concerns there will be no refunds. Management reserves the right to refuse service to anybody or to revoke your tickets.
RELEASE AND WAIVER OF LIABILITY AGREEMENT by entering the fairgrounds ALL ("Participant"), acknowledge and agrees to the terms below. Each Person will be participating as a volunteer or participant in the Concert In Your Car Series activities at the Ventura County Fairgrounds premises and facilities (the "Fair"): I AM AWARE OF THE COVID-19 PANDEMIC AND RELATED GOVERNMENTAL ORDERS,DIRECTIVES AND GUIDELINES (COLLECTIVELY "DIRECTIVES"), INCLUDING DIRECTIVES FOR FREQUENT HAND WASHING, SOCIAL DISTANCING AND USE OF FACE MASKS IN PUBLIC LOCATIONS. I AM AWARE THAT THESE ACTIVITIES ARE OCCURRING IN A PUBLIC LOCATION DURING THE COVID-19 PANDEMIC, AND ALSO POTENTIALLY INVOLVE LIVESTOCK OR OTHER FAIRGROUNDS ACTIVITIES, AND ARE THEREFORE HAZARDOUS ACTIVITIES. I AM AWARE THAT I COULD BE INFECTED, SERIOUSLY INJURED OR EVEN DIE DUE TO COVID-19 OR DUE TO ACTIVITIES ON THE FAIRGROUNDS INCLUDING BUT NOT LIMITED TO LIVESTOCK ACTIVITIES. I AM VOLUNTARILY PARTICIPATING IN THESE ACTIVITIES WITH KNOWLEDGE OF THE DANGER INVOLVED AND AGREE TO ASSUME ANY AND ALL RISKS OF BODILY INJURY, DEATH OR PROPERTY DAMAGE, WHETHER THOSE RISKS ARE KNOWN OR UNKNOWN. As consideration for being permitted by the Fair, the State of California ("State"), the County of Ventura(the "County"), and any lessor of the fair premises ("Lessor"), to participate in these activities and use the Fair premises and facilities, I forever release the Fair, CBF Productions (Producer Of Shows), the State, California Fair Services Authority ("CFSA"), the County, the Lessor, and any fair affiliated organization, along with their respective directors, officers, employees, volunteers, agents, contractors, and representatives (collectively"Releasees") from any and all liabilities, causes of action, lawsuits, claims, demands, or damages of any kind whatsoever that I, my assignees, heirs, distributees, guardians, next of kin, spouse and legal representatives now have, or may have in the future, for injury, death, or property damage, related to (i) my participation in these activities, (ii) the negligence or other acts of any Releasee, whether directly connected to these activities or not, and however caused, or (iii) the condition of the premises where these activities occur, whether or not I am then participating in the activities. I also agree that I, my assignees, heirs, distributees, guardians, next of kin, spouse and legal representatives will not make a claim against, sue, or attach the property of any Releasee in connection with any of the matters covered by the foregoing release. I HAVE CAREFULLY READ THIS AGREEMENT AND FULLY UNDERSTAND ITS CONTENTS. I AM AWARE THAT THIS IS A RELEASE OF LIABILITY AND A CONTRACT BETWEEN MYSELF AND THE FAIR, CBF PRODUCTIONS, THE STATE, CFSA, THE COUNTY, AND THE LESSOR.