Digital Music Production – 6-week class with Alfie Macias
March 30 @ 6:00 pm

-

May 4 @ 8:00 pm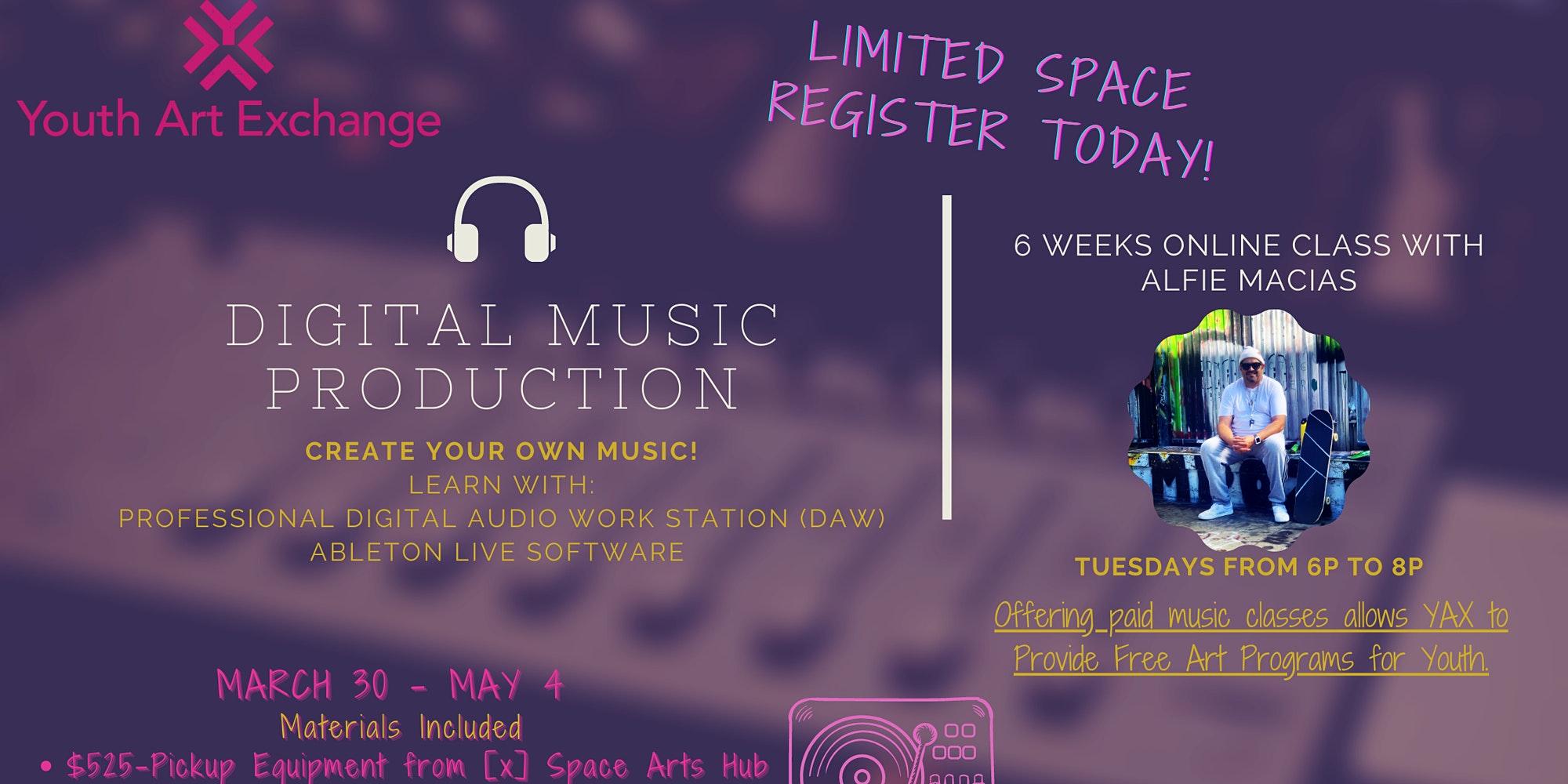 In this 6-week online class with included materials, learn how to make music digitally – with Alfie Macias.
This class will meet online on Tuesdays from 6pm-8pm for 6 weeks, from March 30-May 4, 2021.
Work with professional Digital Audio Work Station (DAW) Ableton Live software and professional audio production equipment to make your own music, create beats, record and put out your projects on SoundCloud.
Youth Art Exchange has offered arts programs to San Francisco public high school artists for over 20 years. Starting in 2021 we are offering paid art classes so that we can continue offering free programs for youth. By participating in this class you will be learning how to make music digitally while supporting youth artists! No experience necessary, and all materials are included.
Sign up by March 22!
Click here to see what our Fall 2020 Music Production youth class made in their program.
Included materials: Miditech i2-mini 32 MIDI Keyboard Controller
You will need: a computer that can run Ableton Live 10 (system requirements).
Cost of class:
$540 including materials and shipping, OR
$525 including materials for local pickup at space arts hub (5137 Mission Street, SF CA 94112) on Wednesday, March 24 from 3-6pm
–
Alfie Macias is Youth Art Exchange (YAX)'s faculty music production and traditional percussion artist. He teaches Music Production after school and in school at Leadership High School.
Alfie Macias teaches music production as well as Afro-Brazilian drumming and percussion ensemble. He has studied and performed with noted percussionists Gamo Paz and Jorge Alabe from Brazil, and locally with Carlos Aceituno, Zeke Neally and Kwaku Dady as well as ensembles including Aguas de Bahia and Fogo Na Roupa. He is an accomplished salsa dance instructor and also teaches with Loco Bloco, the San Francisco Arts Education Project and Project Avary, a summer arts camp for at-risk youth. Alfie was the musical director of both Loco Bloco & is the musical director of the dance company Sambaxé. He and his drumming students regularly collaborate with Sambaxé. Alfie has been with Youth Art Exchange since 2006. He speaks Spanish and Portuguese.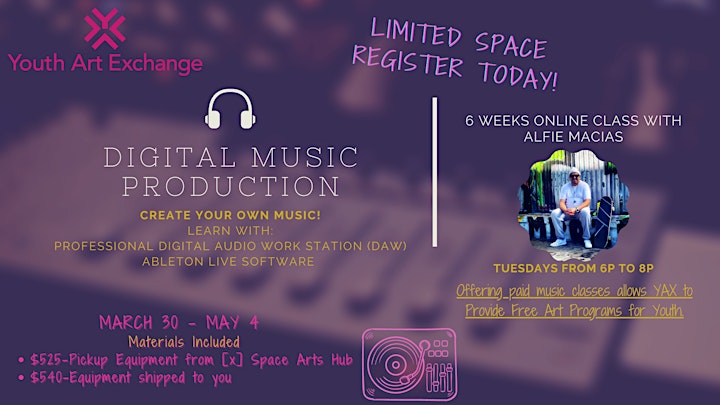 Related Events