Still Traveling: Sensational Seville
January 4 @ 11:00 am

-

January 25 @ 12:15 pm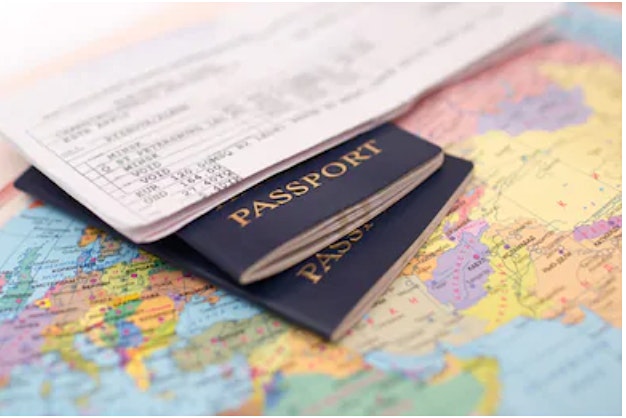 Let us Zoom you to southern Spain to tour with our terrific, professional, local guide, who leads these interesting live "tours."
Still Traveling
Would you like to still travel? Now you can without leaving your home – just stay still!
Let us whisk you away for an "armchair adventure" on an interesting, educational, fun & live, guided group tour in a destination beyond your front door …even beyond the grocery store!
Forget the long, masked airplane ride, we take you across the time zones by Zoom where a local professional guide from a distant destination will take us to explore sites or topics. Live Q&A, photos, graphics & video clips (when available) will transport us to the destination!
Your ticket purchase helps support our special guests – professional guides – who are mostly or completely out of work.
Made possible, in part, by a generous grant from the Senior Excursion fund of the Jewish Federation of San Francisco, The Peninsula, Marin & Sonoma Counties.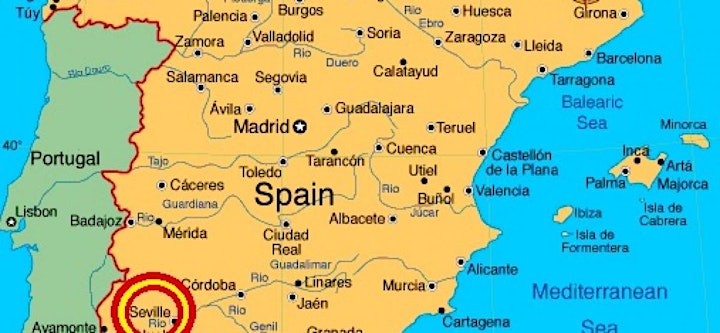 Sensational Seville
Four Mondays, January 4-25, 2021
11:00am-12:15pm (PST), 12:00-1:15pm (MST), 1:00-2:15pm (CST), 2:00-3:15pm (EST)
on Zoom
Many tourists to southern Spain race to Grenada to visit the Alhambra, but overlook the capital and largest city of the Andalusian region – Seville! Make a tinto de verano (so much more popular in Seville than sangria; click here for a recipe), grab a piece of Manchego, join Trip Leader James Sokol and our wonderful, professional, local guide to discover an array of fascinating and stunning facets of this sensational, yet quaint city.
NB: We have extended the time to allow a full-hour for the "tour" and a buffer for welcome/wrap-up.
Our "Tours" Include: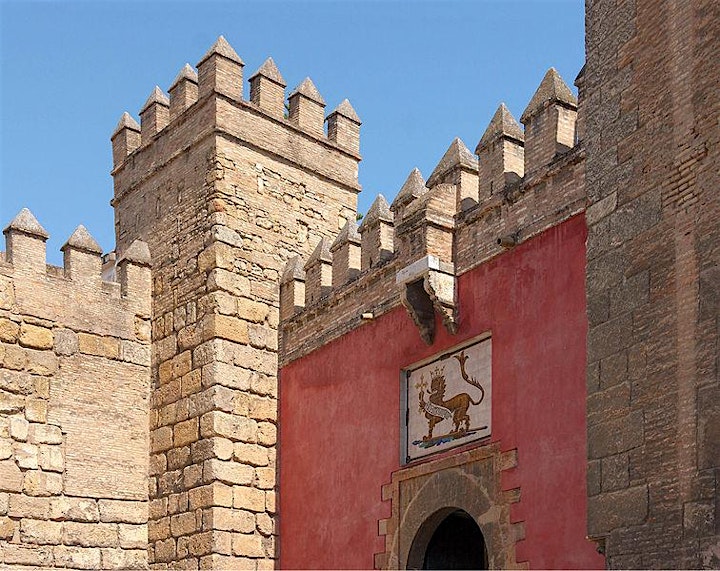 Historical Overview & the Alcazar (Jan 4)
Begin our time in this Andalusian gem with a historical overview before entering the Alcazar –the amazing castle/fortress, a UNESCO World Heritage site, and the oldest palace in all of Europe still in use (when the king of Spain comes to Seville). Inside this 10th century complex are 3 beautiful palaces from various times; a blend of Christian-Muslim-Jewish cultures that goes back to the Middle ages and the golden period of Seville in the 1500s. Also hidden behind the grand walls are beautiful gardens with fountains and tiles; a refreshing escape from the city noise. "Meet" some of the kings, queens, poets and navigators such as Columbus, Magellan, Queen Isabella or Catherine of Aragon, who strolled this paths and hallowed halls. Also a surprise for Games of Thrones fans. Join us!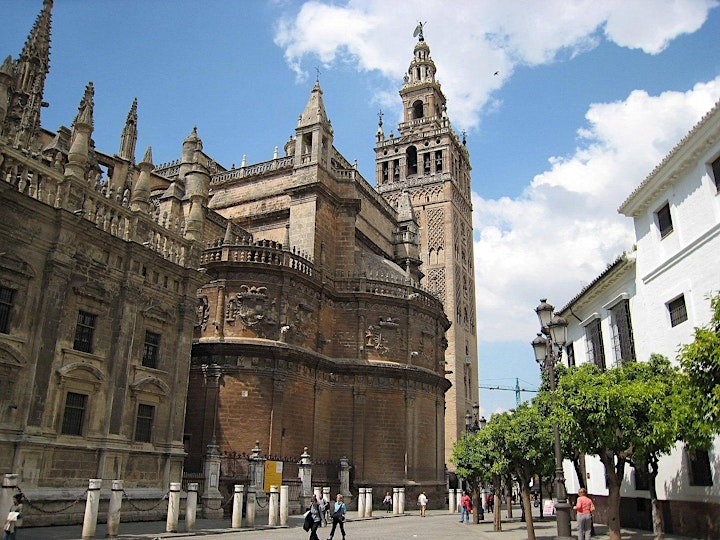 The Cathedral & Giralda (Jan 11)
On the site of a former mosque, the ambitious construction of The Cathedral of Santa Maria – the 3rd largest cathedral in the world – started in the 1400s in gothic style. Explore this massive & magnificent structure. From the original mosque, today still stands the inner courtyard and the iconic minaret, the famous Giralda. Almost a museum, the Cathedral has a huge double organ and a main gold altarpiece adorned with paintings by the best Spanish baroque artists. Explore the mystery of the tomb of Christopher Columbus, who may or may not actually be buried there.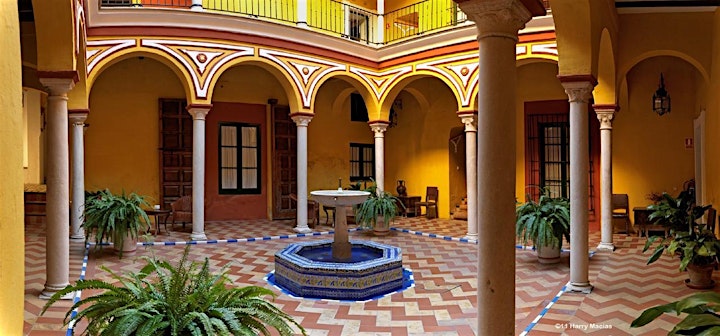 Barrio Santa Cruz & Jewish Seville (Jan 18)
From the Middle Ages, Seville had an important Sephardic Jewish population. Find out where they lived, learn about their jobs, and about their relationship with Muslims & Christians in different periods. Follow our local guide to look for their traces in a hidden underground parking, on the site of a former synagogue, and inside a most original hotel. The lovely streets of the Santa Cruz quarter still hold memories & legends of the Sevillian Jews and of a time of conviviality for the three cultures until the appearance of the Inquisition. See how, today, the former Jewish population is remembered and honored.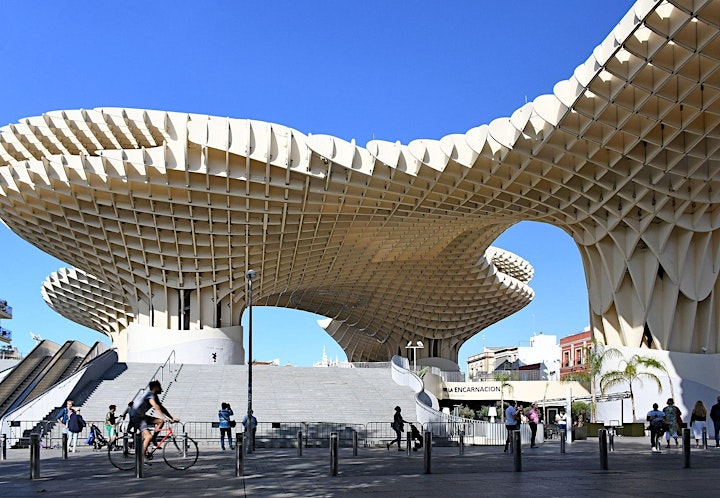 Modern Seville (Jan 25)
Though the city is filled with glorious remnants of the past, two major 20th century events left impressive sites – the 1929 Ibero-American Expo and the 1992 World Fair celebrating the anniversary of the Discovery of America. Visit these modern treasures and see how, in the 21st century, the city faces the future and new constructions, some of which are controversial in this most traditional city.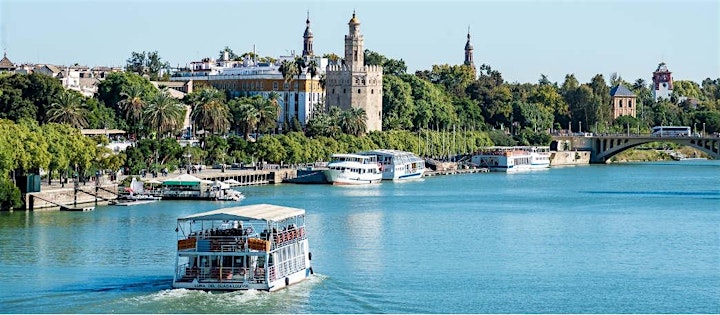 Tickets & Notes:
Series Tickets ($50): Series of 4-tours (equals $12.50/tour).
Give-Us-A-Try Tickets ($15): Single ticket for Jan 4 tour only. Check us out by giving our first class a try. Single tickets are not available to subsequent classes; unfortunately, single tickets cannot be credited toward series purchase.
All Tickets: …are 1) are per device, not per person on Zoom, and 2) are non-refundable & non-exchangeable.

The Fine Print:
Fortunately, we've had very few issues, but just to be clear…
Getting Your Zoom "Event Link": The Zoom event link will be sent to all registrants 24-hours prior to the event. Registrants are requested to make sure the email with the link has arrived and even test to make sure the link launches zoom. If the email does not arrive, please see "Troubleshooting" below. The link will be (re)sent to all registrants 2-hours prior to the event.
Troubleshooting: We will do our best to remedy any issues. Ticket buyers who have completed Zoom event registration, but NOT received the Zoom event link should contact James (see below) before 4:00pm (PST) on the day prior to the event to allow proper time to find a solution.
Late Troubleshooting: We will try our best to – but cannot guarantee – help with Zoom event registration/links to guests contacting James after 4:00pm (PST) on the day prior to the event.
Live Only: In agreement with our guides, artists, instructors, special guests, etc., events are not recorded. Make-up sessions are unavailable. Credit/refund is not given for missed events.
Liability: While we will do our best to remedy any issues, The Osher Marin JCC & its Program Partners cannot be held responsible for 1) issues related to Eventbrite or Zoom, 2) ticket buyers not following the instructions above, nor 3) packing, shipping, or deliver services of food/beverages not received in time for tasting events.
Don't ya just hate "the fine print?!!"
Questions? Email James at [email protected]
Another Perspective:
For a different look at Seville, after our last "visit" of this series, join us for Exploring Opera: Sensational Seville. For details & tickets, click here.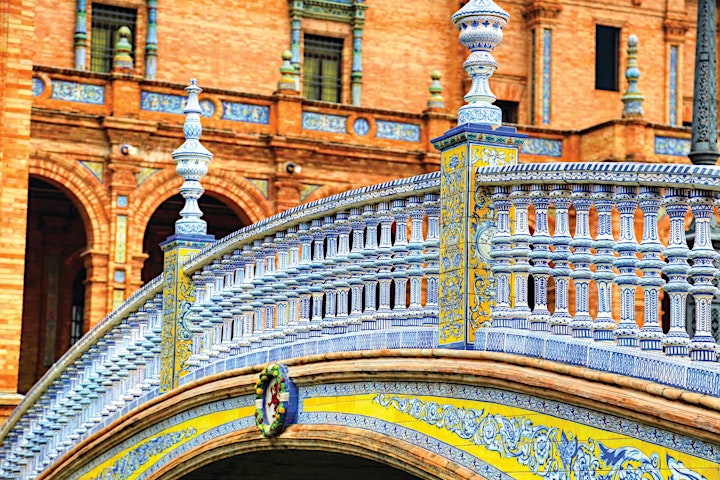 Still Traveling is created by the Osher Marin JCC (San Rafael, CA) and offered by the National JCC Adult & Senior Alliance. See below for a full list of Alliance Partners.
ALL ARE WELCOME to join in our activities! JCC members, non-members, those who live near or far, people of all backgrounds, faiths, ethnicities, hair styles, fashion choices, chocolate preferences, etc. "The more the merrier!"