Thingamajigs Performance Group Virtual Residency at the Berkeley Art Museum / Pacific Film Archive
July 8 @ 7:00 pm

-

10:00 pm

Free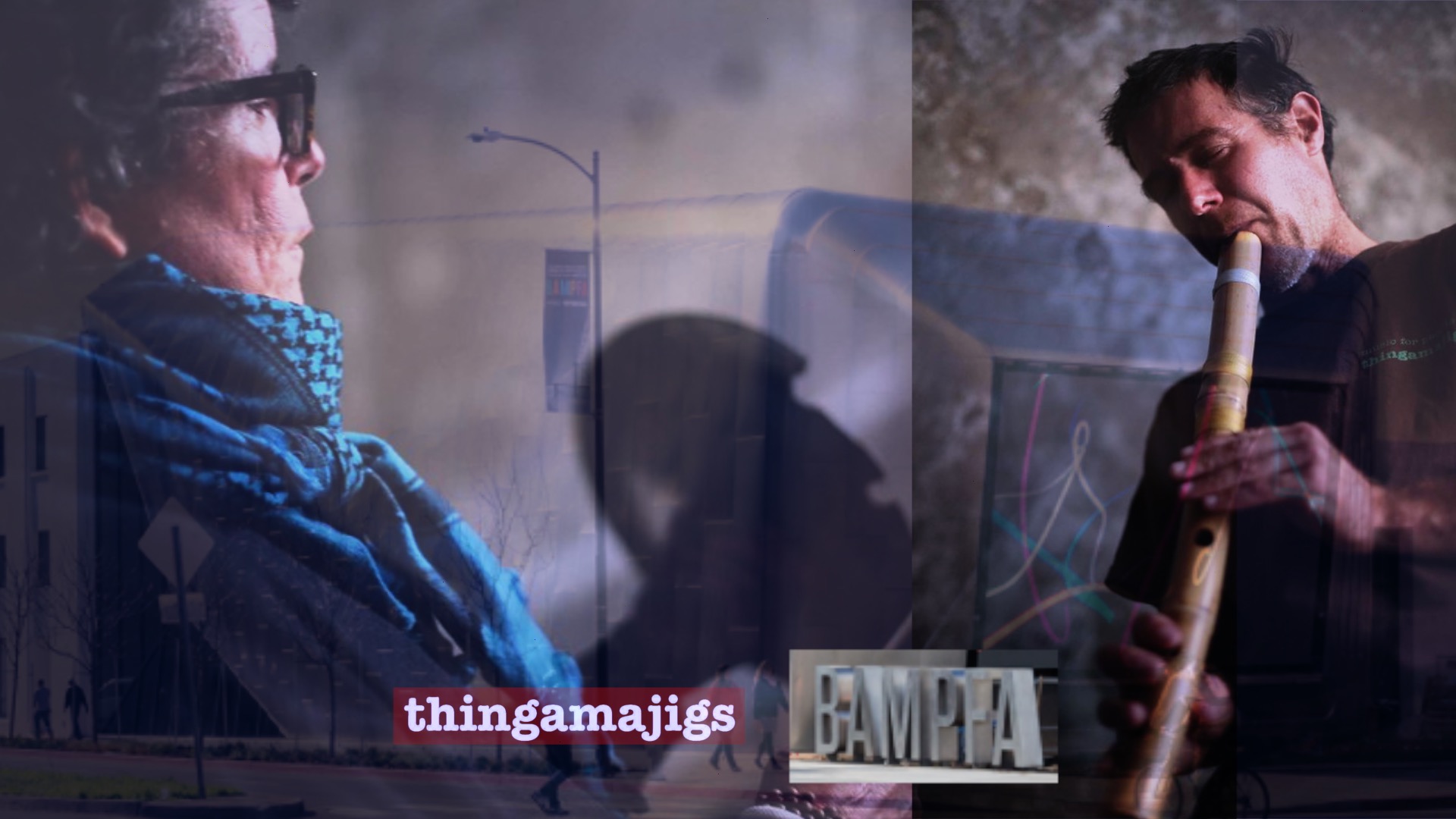 Thingamajigs Performance Group (TPG) will be in residence at the Berkeley Art Museum and Pacific Film Archive with a series of online performances and discussions covering a wide range of topics relevant to living in our current pandemic. Highlights of the residency include a 14-hour live stream of Sound of Wave in Channel, TPG's collaborative work with Bay Area poet Stephen Racliffe. Also featured will be Korea's Ensemble PHASE performing excerpts from a new work by composer and TPG member Edward Schocker. Examining our "sense of self", Self_less' mission is to bring awareness of the connections among brain, body, mind, and self.
All events in this residency will be presented with diverse artists' expressions that will explore personal journeys and social impact both in the past and present. These events will be hosted online at https://bampfa.org/program/virtual/online-events.
"BAMPFA is happy to welcome Thingamajigs for their second residency – their first was almost exactly eight years ago in July of 2013. Though this one is by necessity virtual, rather than in-person, their series of performances, panels, and other events promises to highlight some of the most important contemporary music practices in the Bay Area and across the world. Some events look back on our pandemic year, some look ahead to future projects, and some meditate in the current moment. It will be an exciting and fruitful series!" -Sean Carson, program director (BAM/PFA)
Event Descriptions
July 8th, 7PM PDT
Artist Conversation
Redline Redefined
A discussion with artists affiliated with TPG's work-in-progress Redline Redefined, a cultural research project investigating the history and impact of East Bay real estate redlining. Participating artists Sudhu Tewari and Theresa Wong talk about their strategies and process, sharing from their sonic portfolios, and explore issues of equity, community voice, and the responsibilities of the artist in public practice. Moderated by TPG member and project collaborator Suki O'Kane.
July 15th, 7PM PDT
Artist Conversation & Performance Showcase
Ensemble Pandemic Practices
Part storytelling, part radio show, part cinema, TPG brings together local ensembles who developed physically distanced and virtual practices in order to meet the need to make music with others during a global pandemic. Featuring Lisa Mezzacappa and Jason Levis (dBxB Large Ensemble), Paige Sorvillo, Kevin Corcoran and others.
July 25, 7PM PDT (preceded by 14-hour livestream performance)
Durational Works
Within A Day and Sound of Wave in Channel
Two pieces created in 2021 by TPG and special guests. Within a Day is a six-hour stream of film and music created to reacquaint the ensemble post-lockdown, and features the films of TPG member Keith Evans in a touching homecoming. Sound of Wave in Channel is a 14-hour work created with poet Stephen Ratcliffe in the theater of BAM/PFA and features local musicians, composers, and movement artists, including Rae Diamond, Kevin Corcoran, Paige Sorvillo, and others.
July 31, 7PM PDT
Ensemble PHASE
Self_less
Joining from Seoul, Korea, Ensemble PHASE performs excerpts from Self_less, a work composed by Edward Schocker. With video projections Keith Evans, Self_Less, examines our "sense of self" while questioning the uniformity of these perceived feelings. Incorporating live music, projected and pre-recorded audio of stories from people who have unique neuropsychological experiences, such as Alzheimer's, out-of-body experiences and body integrity identity disorder, Self_Less' mission is to bring awareness of the connections among brain, body, mind, and self.
About Thingamajigs Performance Group
The Thingamajigs Performance Group emerged from the long-term collaborations between individual artists that now make up its ensemble members. Using unusual musical instruments, TPG combines traditional Eastern sensibilities with modern American technologies and performance practices. Creating pieces in a group collaborative process that sometimes incorporate voice and multimedia elements, this ensemble of musicians expands and contracts within each performance situation.
TPG specializes in works developed, created and performed in specific spaces and situations and have created major works and held partnerships with Mondavi Center for the Performing Arts, Headland Center for the Arts, Stanford Lively Arts, Berkeley Art Museum/Pacific Film Archive, Theatre of Yugen, Museum of Art & History Santa Cruz, Mills College Music and Art Departments and the Pacific Northwest College of Art.
About THINGAMAJIGS
Thingamajigs is a genre-crossing arts organization that promotes, presents and performs music and other art forms created with made and found materials or alternate tuning systems. Since 1997 we have presented world premiere works and performances by over 100 local, national and international artists. Known for our adventurous and genre-crossing programs, many of our artists have gained international recognition -with two MacArthur Fellows, Gerbode Foundation's Emerging Composers Awardees, and a McKnight Composer Fellow, to name a few. Our Annual Music for People & Thingamajigs Festival is now in its 18th year and is the only festival of its kind in the country.
In its years of existence, Thingamajigs has partnered with and been commissioned by many other community organizations such as Yerba Buena Center for the Arts, Oakland Museum of California, Berkeley Art Museum/Pacific Film Archive, Stanford Lively Arts, Mills College Art Museum and the Port of Oakland.
For more information : http://www.thingamajigs.org/berkeley-art-museum-residency
Calendar editors, please file under Festival and/or Concert Event Host : Thingamajigs
Event : Thingamajigs Performance Group Virtual Residency Venue : Online at Berkeley Art Museum and Pacific Film Archive Date : July (8, 15, 25, 31), 2021
Admission : Free
For more information:
http://www.thingamajigs.org/ | [email protected]
Related Events