Zentangle® Intricate Patterns Portfolio Class August 6
August 6 @ 10:00 am

-

11:45 am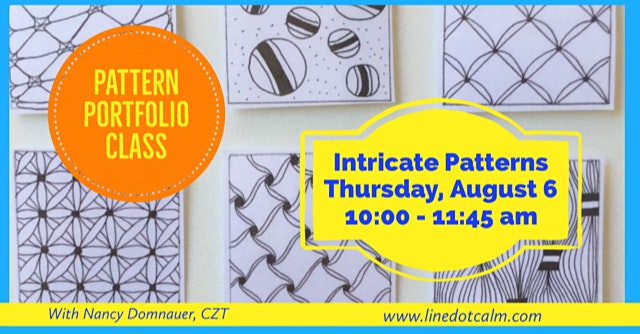 Zentangle® Pattern Portfolio Class Intricate Patterns
You're invited to the Zentangle® Pattern Portfolio Intricate Patterns online class with Nancy Domnauer, Certified Zentangle Teacher on Thursday, August 6, from 10:00 am to 11:45 am, California time.
Tanglers will create personalized portfolios as we focus on tangle patterns by type, study key characteristics, tangle tiles and create beautiful portfolios of your Zentangle artwork.
The August 6 class will focus on intricate tangle patterns.
Pattern Portfolio classes will be taught on Thursday mornings in the summer from 10:00 am to 11:45 am, PDT.
Each class in the series is independent. Students may enroll in as few or as many classes as they chose.
This class is open to CZTs and experienced Zentangle students only.
Enrolled students will receive an email with the supply list once they register.
Pattern Portfolio Summer Series Schedule:Class 1: Linear Patterns: Thursday, June 18, 2020Class 2: Triangle Patterns: Thursday, July 2Class 3: Grid Patterns: Thursday, July 9Class 4: Circular Patterns: Thursday, July 16Class 5: Organic Patterns: Thursday, July 23Class 6: Dot Grid Patterns: Thursday, July 30Class 7: Intricate Patterns & Series Finale: Thursday, August 6
Students who participate in any 4 classes of the series, may enroll in subsequent classes during this series for a discount. Please contact me for details.
Registration fee: $35 per class.
If you have questions, please send me an email: [email protected]
Thank you!